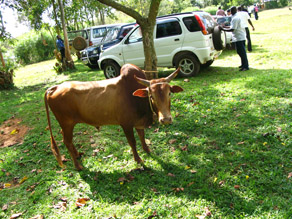 Word has reached
TBHQ
from a reporter in the field that the
slaughtering of the victory cow
has taken place in
Obama's
grandmother's Kenyan village of
Kogelo
.
Nervous bovine throughout Kenya were worried which one of their kin would be slaughtered, but it seems "Daisy" was the unlucky McCain supporter offered as a celebration gift for "The One's" success...
TB is now turning his animal rights attention to Alaska's moose population. Sarah
Palin
will have a lot of spare time on her hands now and no doubt will pick up her gun...
Just as long as she leaves the bears alone...